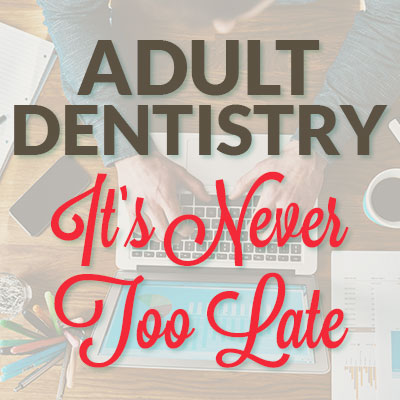 Good News for Grown-Ups
"Adulting" can be hard. Between rent, bills, kids, a career, and other responsibilities, it can be tough to make time for yourself. But independence, parenting, fulfilling work, and the wisdom that comes with age can be pretty fantastic, too. So how does your oral healthcare fit into a grown-up lifestyle?
White Spruce Dental serves adults from all over Rochester. Read more for our tips on how to care for your oral health at this particular stage in life.
Priorities: You manage a lot on any given day. Brushing your teeth and making a dental appointment may not feel like the most pressing of matters, but you know they are important in the long run—so you do it.
Family Life: Many people are more motivated to take care of themselves when good habits easily fit in with family life, and others are looking to you to set a positive example. Whether you are caring for children or aging parents, preventative oral healthcare is more likely to happen when done together as a family.
Benefits: If you have a job that provides dental coverage, there's really no reason not to see the dentist. You should even be able to use paid time off for the appointment. Ever heard of "me time"?
Holistic Dentistry: As we get older, we tend to know ourselves better. Holistic medicine is getting more popular as people consider all the ways one part of their health affects another. Keep solid notes on how your whole body and mouth are doing and share the notes with both your doctor and your dentist.