Everything You Need to Know About Gum Disease
Posted on July 13th, 2023
Did you know half of Americans have gum disease?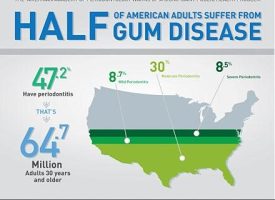 Gum disease happens when bacteria gets trapped below the gum line and damages the soft tissue. In its most advanced stages the bacteria cause bone and tooth loss. If it's been a while since you've been to the dentist, White Spruce Dental would love to examine your gums and let you know how things are going!
Risk factors
Some risk factors for gum disease are within your control, and some are not. It's important to control what you can to keep your gums as healthy as possible. 
| | | |
| --- | --- | --- |
| Modifiable Risk Factors | Unmodifiable Risk Factors | Either/Both  |
| Hygiene habits | Age | Medication use |
| Smoking, vaping or chewing tobacco | Genetics | Obesity  |
| Drug and alcohol use | Hormonal changes | |
| | Cancer, cancer treatment, HIV/AIDS | |
| | Diabetes, Rheumatoid arthritis, chronic kidney disease | |
When to Come See Us
If you have any of the risk factors and notice one or more symptoms listed below, schedule an appointment with White Spruce Dental. 
Bleeding gums

Sore gums 

Receding gums

Gaps between your gums and teeth

Bad breath

Loose permanent teeth

Pain when you chew food

Red or purple gums 

Swollen gums

A change in the way your bite fits together
If you notice any of these risk factors, it's a good idea to come in and see us for a full exam. If we detect early stages of gum disease, we can provide treatment options.
How Does Gum Disease Affect the Rest of the Body?
They have linked gum disease to issues like diabetes and cardiovascular disease. Sometimes, periodontal disease increases the risk of a systemic issue. In other cases systemic issues increase the risk of gum disease. And other times the combination increases the risk of mortality. Here are a few facts about the gum disease/systemic disease link. 
The Oral Hygiene Connection 
In almost every study listed above, the recommendations of the researchers was to practice good oral hygiene. It is one of our best defenses against gum disease and cavities. The American Dental Association recommends brushing twice a day with a soft-bristled toothbrush, for two minutes. They also recommend flossing once. 
[DOWNLOAD THE ADA ORAL HEALTH RECOMMENDATIONS]
We Can Help Treat and Manage Gum Disease
We have the skills and know-how to help manage early to advanced stage gum disease. The earlier we intervene the better the treatment outcomes. Call us if you have questions or come on in for a professional exam. Live happy and healthy by caring for your gum health. 
Call now to discuss your gum heath with White Spruce Dental!
OFFICE HOURS
| | |
| --- | --- |
| Mon - Wed | 8am - 5pm |
| Thursday | 8am - 2pm |
| Friday | 8am - 1pm |
SERVING
Rochester, Henrietta, Brighton,
Pittsford, Scottsville, Irondequoit,
Churchville, Mendon, and Greece