Dental Implants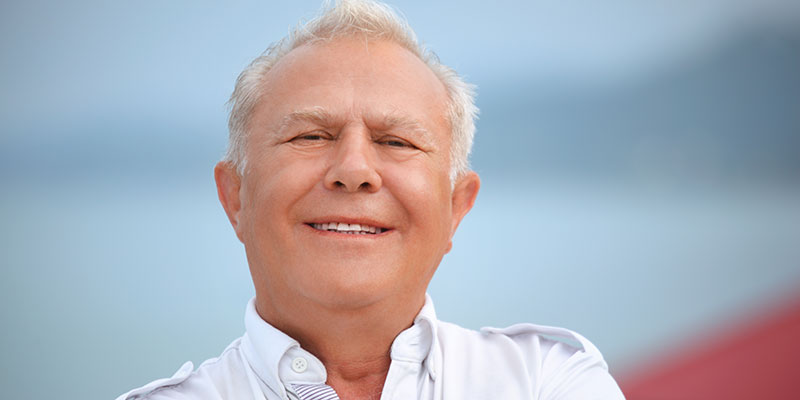 Missing Teeth Don't Have to Be a Life Sentence
Some studies indicate between 120 and 178 million Americans are missing at least one tooth, while 36 to 40 million have no teeth at all. The most frequent cause of tooth loss in adults is poor dental hygiene, which invites decay, disease, and weakens gum tissue, creating an unreliable environment where teeth are less likely to stay.
If you're missing a tooth (or teeth), you don't have to just accept their absence, miss out on your favorite foods, or keep covering your mouth when you laugh. Rochester, NY implant dentists Dr. Ken Nozik and Dr. John Tumminelli offer years of experience, skills, and consistently successful results. While there are many options to replace absent teeth, dental implants are the most popular choice of doctors and patients alike—and implants can successfully support and replace single teeth or multiple teeth. Full arch dental implants and complete implant-supported dentures are available, too!
No One Wants to Look Older Than They Have To
No one wants to look older than they have to—and unfortunately, missing teeth accelerate premature aging.  We don't want to scare you, but jawbone density begins decreasing immediately upon tooth loss—in fact, your jawbone can recede almost a full quarter of an inch just in the first year the tooth is gone! Dental implant placement restores the jaw to its rightful structure, resulting in a more youthful appearance by eliminating the "sunken-in" facial appearance missing teeth can cause—in addition to preventing additional bone loss.
How Do Dental Implants Work?
A titanium implant post is surgically placed in the jaw below the gum tissue
The implant post incorporates itself into the jaw as it heals
The post is left to heal for several weeks, with follow-up visits to check healing progress
Once the post has healed, a beautiful tooth-colored crown restoration finishes the process
What Makes Dental Implants Permanent?
Titanium implant posts have the capability to regenerate new tooth roots, stimulating bone growth and matching the stability of healthy natural teeth. The only restorative dentistry method with this capability, dental implants have become the most sought-after tooth replacement method among dentist and patients alike after years of successful outcomes.
The consistent long-term success of dental implants is also due to things they cannot do:
Decay
Break
Fracture
Cause gum disease
Compromise surrounding teeth
Traditional prosthetic bridgework and dentures have an approximate life cycle of 10 to 15 years before replacement becomes necessary—but with proper care, dental implants can last a lifetime.
Will Dental Implants Look Natural?
In all their years as Rochester dental implant providers, Dr. Nozik and Dr. Tumminelli have observed that there is nothing closer to natural teeth than dental implants, both in form and in function—and the dental industry as a whole agrees. The crown restoration that completes an implant is not only custom-fit to your jaw and bite, it is color-matched to your existing teeth—so it looks just like another natural tooth.  Your implant or implants will maintain your facial appearance and symmetry and enhance your oral health at the same time.
How Do Dental Implants Support Dentures?
Traditional dentures sit on top of the gums and can loosen with wear (anyone who has worn a removable denture knows how awkward it can be to remove a sesame seed or popcorn kernel trapped under one in public)! Traditional denture wearers may have difficulty eating, talking, and performing other daily functions due to the unpredictability their dentures present, but implant-supported dentures eliminate these problems completely.
Since implants replace tooth roots, the jawbone remains robust and full, keeps facial structure intact over time, and with the security of implant-supported dentures, wearers can chew, speak, eat and laugh with confidence, feel great…and look even better!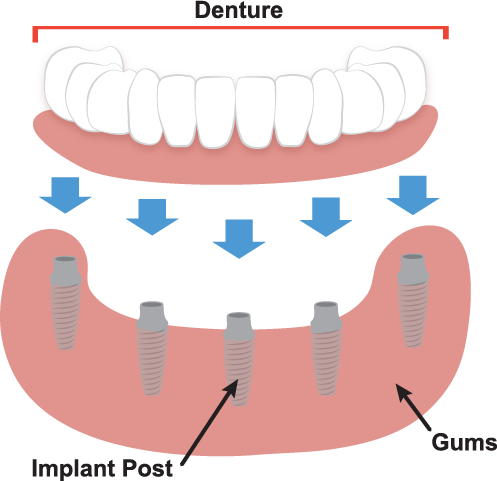 Am I A Candidate for Dental Implants?
There's only one way to find out—get in touch and visit us at White Spruce Dental! We'll give you a comprehensive exam, take detailed x-rays, and develop a custom treatment plan that's tailored to your individual dental situation.  What other factors will be considered?
Overall health, medical and dental history
Your dental concerns
Bone density
Your dental goals and preferences
The majority of people seeking dental implants are favorable candidates—but if for some reason implants are not right for you, Dr. Nozik and Dr. Tumminelli can recommend other restorative dentistry procedures to get your bite back.
Whether you're a younger adult who lost a tooth or an older person who struggles with the fit of uncomfortable dentures, dental implants can be a worthwhile investment to secure your smile for the rest of your life.
If you have any questions about dental implants, or would like to schedule a consultation with your Rochester dentist, Dr. Nozik or Dr. Tumminelli at White Spruce Dental, please contact us today at 585.424.5120.
Proudly serving Rochester, Henrietta, Brighton, Pittsford, Scottsville, Irondequoit, Churchville, Mendon, and Greece!